Version 4.11
September 2019
Changes in the layout of the main form
player and headphone controls share the same place

display of the cover of the current title is smaller, but always visible

display of the lyrics for the current title is dropped, but a display of the lyrics for the selected title in the playlist and media list

controls for effects and equalizer moved to separate window.

removed the possibility to switch the scrolling title display between different information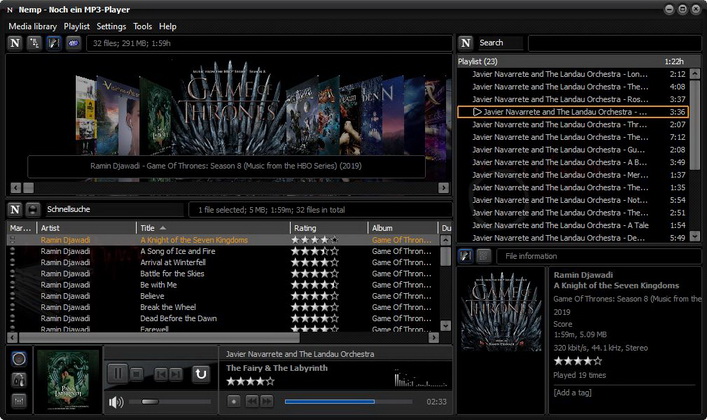 Other changes
Some changes and extensions to the skin system. Due to the new proportions of the window old skins may be incompatible and have to be adapted.

Background graphics can be defined for individual areas, various options for alignment

Bouncing bars in the taskbar preview removed. Instead more space for the title and a small progress bar.

Use of some more skin colors also when the advanced skin system is used

The sleep mode is no longer selected via a nested menu, but via a new dialog window.

Minor changes to the display in the playlist: The default note symbol is no longer displayed. For titles with cue sheets, the individual entries are displayed without quotes.

Deskband removed. It is still supported in principle, but since Nemp does not support Windows XP any more, and some other functions are not supported under XP, it is no longer included.