What's new
Version 5 starts a new chapter in Nemp and large parts of the code have been rewritten for it. Among the internal changes, it is particularly noteworthy that the three display modes of the media library as tree view, coverflow and tag cloud are now on the same code base and use the same data structures. As a side effect of this, the album cover can now also be displayed in the tree view.
The biggest visible change is the introduction of categories in the media library. This allows you to divide the media library into different sections. You can customize these categories according to your needs. The separation into two lists (e.g. artists and albums) in the tree view has been replaced by a tree structure, in which several sort orders can now be used in parallel - you can also customize these according to your wishes.
In addition, the arrangement of the individual areas is now more freely configurable, and all elements (except for Control and Playlist) can be optionally hidden. The functionality of Drag&Drop has been extended, and the settings dialog has been greatly revised.
In the Media Library, the properties "Album Artist", "Composer" and "BPM (Beats per Minute)" are now also processed and stored. The album artist can be preferred when categorizing by "Artist".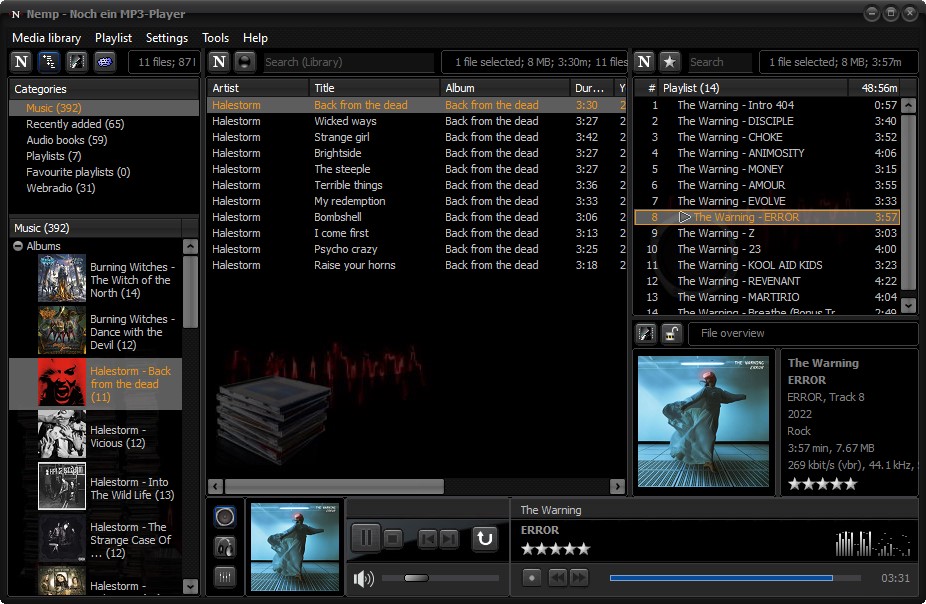 On the other hand, the automatic search for lyrics has been dropped. This has always been kind of a gray area. After the community-based LyricWiki was shut down, I don't see any way to continue offering this feature. It is now reduced to automatically generated URLs to AZLyrics.com or search queries to various search engines. From there the text can be copied manually.